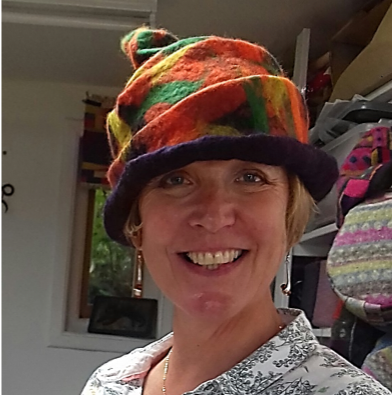 Hats
Come andmake your own beautiful felt hat. Whether you dream of dreadlocks, your own festival hat, beret, or any other shape, you can come along and have a go at creating it.

You will be shown how to design your own hat, working from a basic template, which you can then personalise by adding flaps, flowers, tassels, bobbles or any other decoration you can think of!
What's included in the price?
All materials and home baked snacks and lunch including soup or salads made from our home grown organic vegetables (in season).

Please click on the button above for the next available date.
Felt is one of the earliest fabrics to be made, occurring throughout the world, and used extensively for everything from hats to tents. It is simple and therapeutic to make, using easily obtainable equipment and materials, and offers the possibility of fantastic results.
If you are visiting the Forest Of Dean on holiday, or arranging a fun and creative day out, I can tailor courses to suit you, whether you would like to produce something for your home, or to wear, or maybe as a special present for a wedding, baby shower, or anniversary, give me a ring.
I run these regular courses at my workshop, for up to 4 people, on the dates shown, and other dates by arrangement. I can also run any of them for up to 12 people at other venues.